Joint Programme Disaster Risk Reduction for Sustainable Development in Bosnia and Herzegovina – DRR is financed by the Government of Switzerland and the United Nations (UN), implemented by the UN agencies: UNDP, UNICEF, UNESCO, UNFPA and FAO, in partnership with domestic authorities. The first phase of the Programme is being implemented from 2019 to June 2023.
Bosnia and Herzegovina in 2014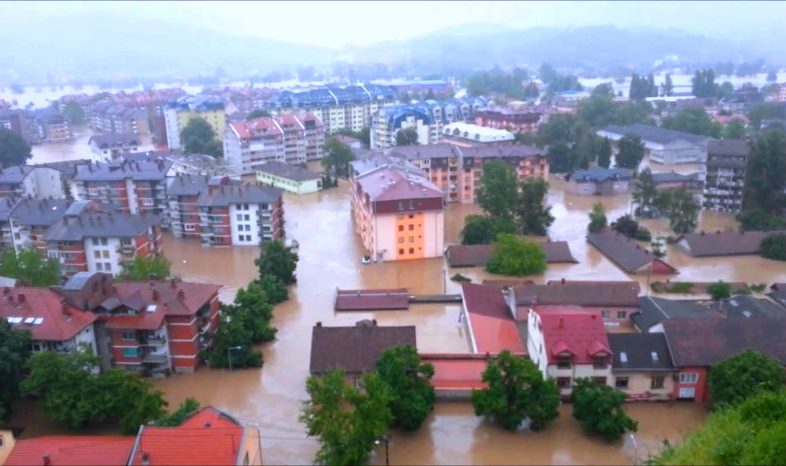 The Programme is tasked to introduce and operationalize an integrated model of disaster risk governance and livelihood enhancement at the local level, as a springboard to a bottom-up introduction of DRR governance in Bosnia and Herzegovina (BiH). Also, the Programme aims to address key DRR priorities identified by 10 local governments (Banja Luka, Bijeljina, Bihać, Gradačac, Kakanj, Kalesija, Prijedor, Sanski Most, Srebrenica, and Trebinje,) and various stakeholders across various sectors: protection and rescue, education, social and child protection, health, and agriculture, improving local DRR coordination mechanisms, as well as at affirming risk-informed strategic planning processes with focus on the most vulnerable population groups. The Programme is aimed at provision of support to prepare for and adapt to disaster risks and shocks across various development sectors, with particular focus on the most vulnerable and high-risk local communities in BiH.
Being in the middle of its implementation period, the Programme has DevCon to perform the Impact Assessment with a goal to obtain an objective feedback with regard to its progress in targeted local self-government units (LSGUs). This report was based on the findings captured from Programme documentation, as well as data and opinions obtained through structured discussions with Programme personnel and main beneficiaries – 10 LSGUs from BiH. It provides assessment based on the standard (OECD-DAC) evaluation criteria, along with conclusions and recommendations for its remaining duration. It is intended to provide valuable information for informed decision-making with regard to steering and fine-tuning of the ongoing Programme activities, as well as recommendations for the improvement of other similar actions.
Main achivements throughout DRR Programme implementation
| | | |
| --- | --- | --- |
| 2019 | 2020 | 2021 |
| Establishment of Steering Committee / Advisory Board | Development of implementation plans | Development of sector policies |
| Identification and selection of partner LSGUs | Preparation of capacity building roadmap | Definition of DRR priorities in each LSGUs |
| Establishing of local DRR Platforms | Assessments of capacities of local DRR platforms | Involvement of DRR priorities into strategic frameworks |
| Introduction of DRAS | Operationalization of DRAS | Promotion of DRAS |
| Initiation of multi-sectoral risk assessments | Preparation of multi-sectoral risk assessments | Finalization of multi-sectoral risk assessments |
| Initiation of capacity development actions | Implementation of capacity development actions | Continuation of capacity development actions |
According to the prepared Impact Assessment Report, the Programme may be regarded as successful, based on the score for the three observed OECD-DAC evaluation criteria: relevance, effectiveness and efficiency. The criteria related to sustainability and impact where not rated in the midterm of Programme implementation. In order to secure long-term sustainability of the Programme and produce the desired impact for the benefit of citizens of the partner local communities and overall BiH society, it is important to continue the initiated work on the institutionalization and further operationalization of the established local DRR Platforms seeking the options for their horizontal spreading and vertical integration. Furthermore, it is essential to recognize and materialize the work through incorporation of DRR assessments and priority actions into development strategies and action plans.