I arrived the night between Thursday and Friday. An eleven-hour flight from Zagreb, via Istanbul, with a seven-hour wait, and Ouagadougou, Burkina Faso. Late October, Lungi Airport, Sierra Leone. Two hours in the minus. It's warm, steamy. Africa, for the first time. A night ride in an obsolete brand van on a hilly, earthy, muddy road to the port, and then by boat to the other side of Tagrin Bay. Wind and sea foam dust. Fortunately, there are no mosquitoes. I guess the wind blows them away. Freetown lights in the distance. Somehow, there are few of them on the other side. From the remoteness, it seems smaller than it should be.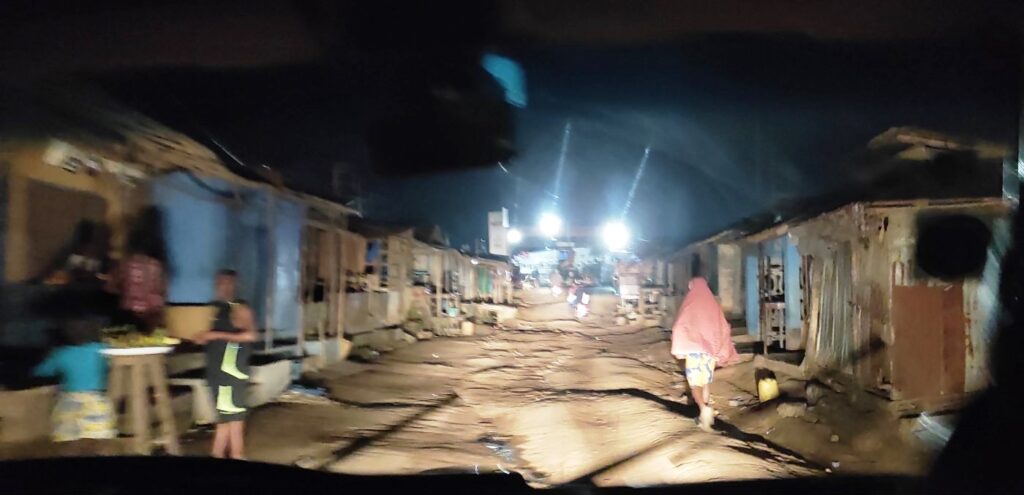 A road from Freetown Lunghi Airport to ocean dock
A look to Freetown from a boat (looks smaller than it is)
My arrival in the Land of the Lion Mountain has already cost me some $40 in tips. To whom and why, I have no idea. The blame goes on me; I should have gotten smaller bills on time. It doesn't matter anymore, I'm tired. Just to get to the hotel and forget the crazy welcome to Lungi. Uniformed and non-uniformed persons, without accreditation, ask questions in Pidgin English, review travel documents, visas, vaccination certificates, all in a total mess. They do their job as if they are doing you an amazing favor and ask for money. Yes, everyone is expecting and asking for money.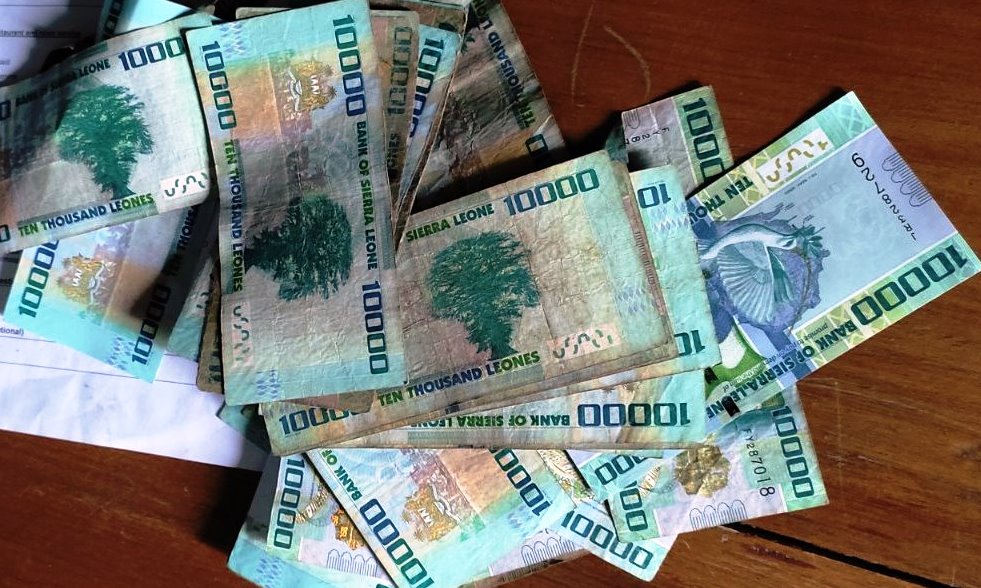 Money, money, money (100$ =113 x 10.000 leons)
Sea Coach Water Taxi dock. The staff takes the suitcase out of my hands, pushes it a few feet and asks for a tip. I know, they're poor, but this is too much. I walk through the dock building and exit to the parking lot. I'm looking for my driver Ginny, who was supposed to meet me. I see a man waiting for someone. I ask him if he's Ginny. He answers something unclear, takes my suitcase and loads it into the trunk of the big Land Cruiser. I sit in the passenger seat. He looks at some paper and reads the name. It's not me. Oh, my God! I get out of the vehicle and ask around for Ginny because he doesn't reply to my text messages. After a loud call from a dockworker, a plump guy in his thirties approaches me. Yes, he waited for me and fell asleep waiting.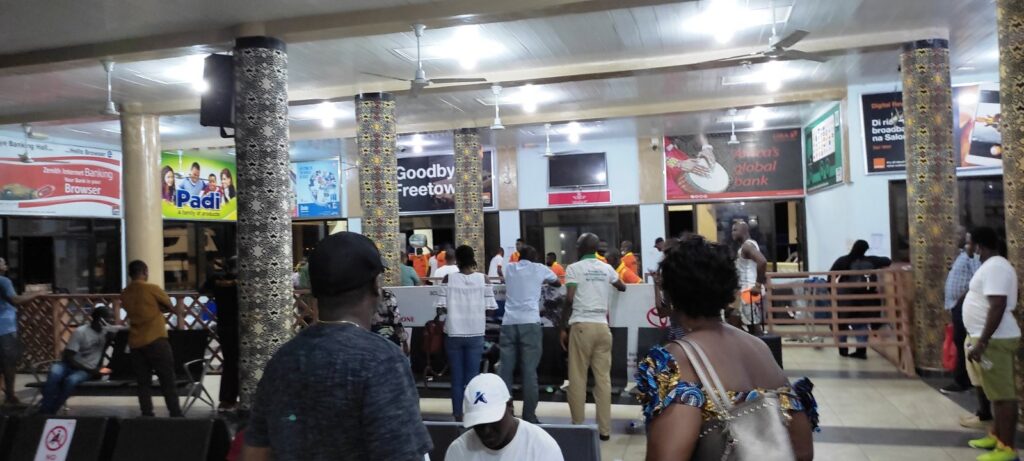 SeaCoach Water Taxi dock building
I re-enter the vehicle, an official white Land Cruiser with the German Society for International Cooperation logo. There is no mistake this time. Ginny drives me to my destination, the Family Kingdom hotel. There is not much traffic at this late hour, and my hotel should not be far away. As we drive, I try to catch a glimpse of at least something of Freetown and this new African country unknown to me. We'll be there soon. The hotel gate is opened by the guards. The reception door is locked. The guards call and bang. The door is finally opened by a lady receptionist. We woke her up. As she gets dressed, I take out my passport, hotel voucher and other documents. The picture of the president is hanged up above the reception desk. I am filling out some annoying form, although all the information has already been sent by my agent. How long do I have to take this!?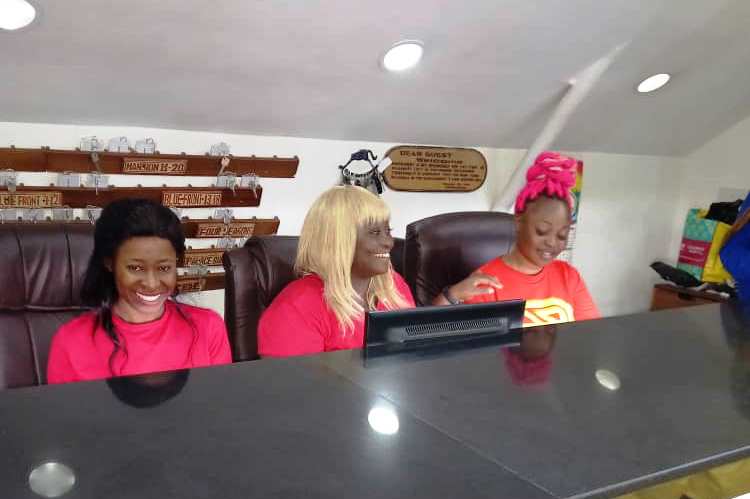 The Family Kingdom Hotel reception desk
The receptionist takes me to the next building. In the dim light I can see the yard. The hotel has several buildings. A fence surrounds it. The yard is nice. It looks rich, even in the dark. So, I will spend the next ten days here. We climb to the second floor. It's raining and the stairs are slippery. Ginny slips and falls. He hasn't woken up yet. We enter room number 13 at Blue Front hotel building. It is large and spacious, but crumbly, unventilated. It does not seem clean and tidy. I will survive. I ask about the mosquito net coming down from the ceiling. More experienced interlocutors instilled in me a fear of malaria. The receptionist stretches the net and pulls its lower part into the edge of a large bed. I think about how I'm going to get inside. I put down my suitcase and ask for water. Yes, water is not drinkable, so I got bottled. Ginny and the receptionist stand in the room with their backs to the exit. I thank them and say good night. They leave.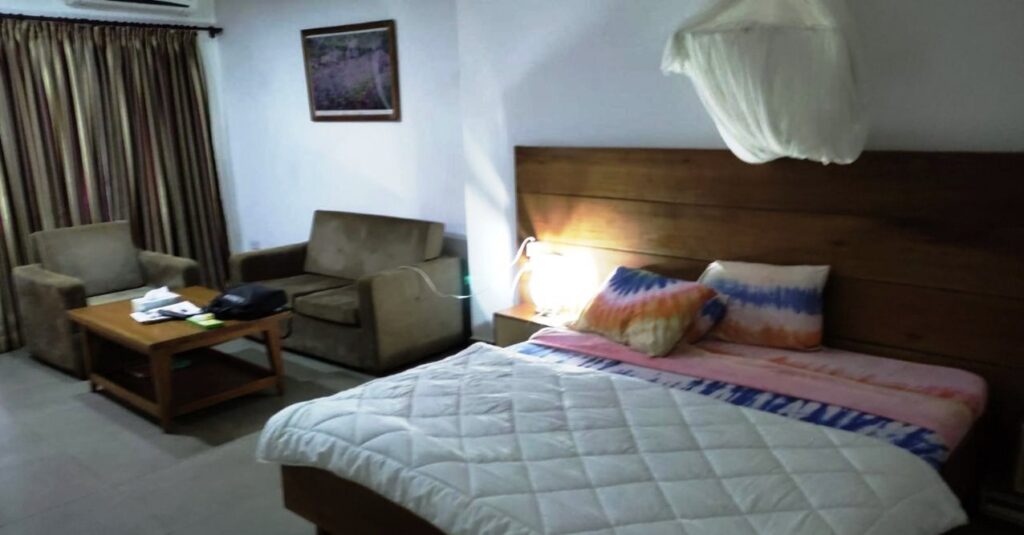 Blue Front building, room no. 13
I lock the front door of the room and open the balcony wide to ventilate. Fortunately, they have a mosquito net. I go to the bathroom and take a shower making sure water doesn't get in my mouth and eyes. The water pressure is low and the water is barely warm. Still, it's good, no color, no smell. I start brushing my teeth and without thinking I grab the water from the tap with my mouth. No, I have to be careful, it can't be done here. I pull the net out of the edge of the bed so I can get in and lie down. It's quiet. Steamy. The first morning of my African adventure will soon begin.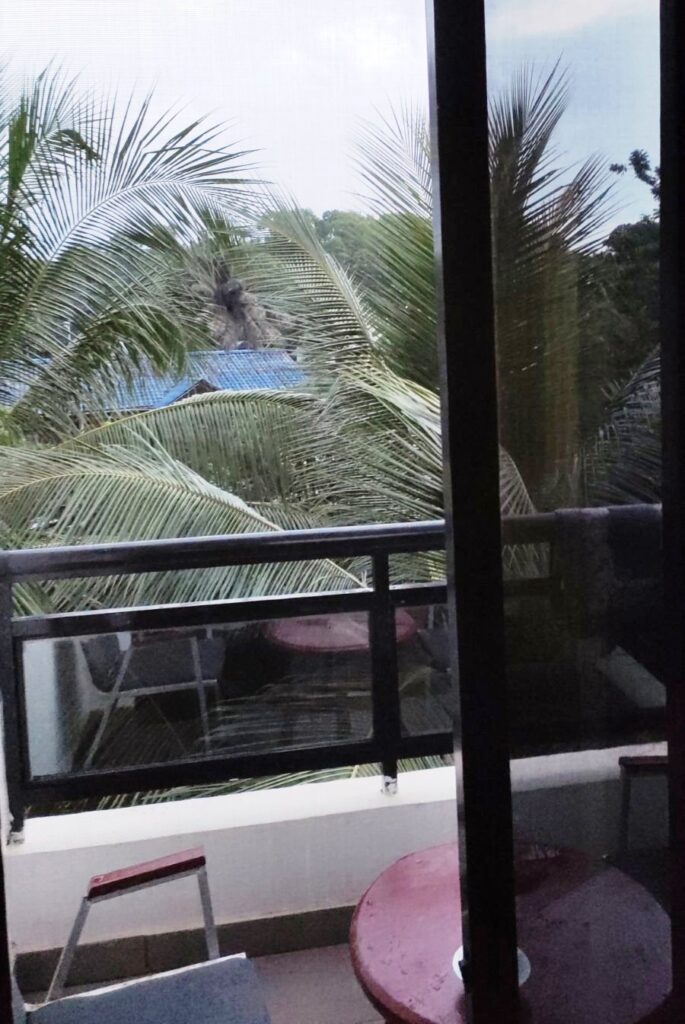 A view to an African mourning from my hotel room balcony